Key drivers for growth in lithium use for lithium ion batteries:
The lithium ion battery has captured nearly 100% of the portable computer and communications market and gaining share in the consumer electronics market such as power tools.

The Tesla/Panasonic lithium ion battery 'gigafactory' under construction in Nevada USA will be the world's largest and most advanced battery factory. The factory will be completed in 2017 and will produce up to 500,000 batteries per annum by 2020.

Additional factories are being built in Asia whilst a number of companies are proceeding with battery production projects in Europe. Lithium battery projects with cell production requiring lithium supply have been announced by LG Chem (Poland), SK Innovation (Hungary), Terra E Holding (Germany), andNorthvolt (Sweden).

Most major car manufacturers have now introduced vehicles using lithium ion batteries.

China is a growing market for lithium ion batteries with the support of government initiatives such as subsidies of ~$10k for purchases of electronic vehicles.

Government policy in Europe is supportive of EV with Germany, France and UK all announcing the intention to stop vehicle production with internal combustion engines by 2040

Roskill anticipates that growth in energy storage systems for grid and off-grid will increase from 327MWh in 2015 to 5.8GWh in 2025.
World Market rechargeable lithium batteries by end-use
Source: Roskill Lithium: Global Industry, Markets and Outlook to 2025 13th Edition 2016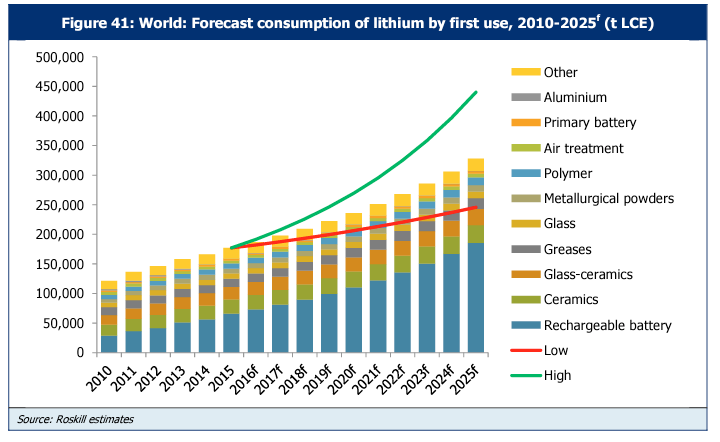 LCE in Batteries

Subscribe to receive email alerts